Lianne Smith child deaths trial: Jury goes out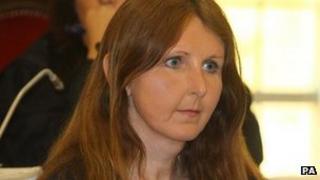 The jury has gone out to deliberate in the trial of a woman accused of murdering her two children in Spain.
Lianne Smith, 45, originally from Tyneside, has admitted smothering Rebecca, five, and 11-month-old Daniel in Lloret de Mar in May 2010.
The jury at the Provincial Court in Girona will decide whether she is criminally responsible for murder.
Her defence is seeking an acquittal, claiming she was "psychiatrically disturbed".
The deaths happened a few days after Ms Smith's partner, Martin Smith, was extradited to the UK on charges of sexually abusing her eldest daughter from another relationship.
Prosecutor Victor Pillado Quintas said that Ms Smith suffered "a psychotic disorder which impaired her faculties" when she killed her children.
Instead of a total of 38 years in prison for two counts of murder, he is now asking for 34.
Even if she is cleared of the charges, Judge Adolfo Garcia Morales can remand her in a psychiatric ward until she is considered fit to be released.
The killings took place in a hotel shortly after Ms Smith's partner, Martin Smith, was arrested in Barcelona by Spanish police acting on a European Arrest Warrant.
The family had been in Spain since 2007 after fleeing Lichfield, Staffordshire, because of the sex abuse charges. Before then, the family had lived in Cumbria.
After her partner was deported to the UK, Ms Smith thought British social services were in Spain to take her children away from her.
The jury heard that, after killing the children, she tried to take her own life.
In December 2010, Martin Smith was found guilty at Manchester Crown Court of using hypnotism, bullying and violence to groom and sexually abuse Ms Smith's daughter, Sarah Richardson, who has waived her right to anonymity.
In January, he was found hanged in his cell at Strangeways Prison in Manchester.