London 2012: 'Pure amateur' javelin thrower recalls 1948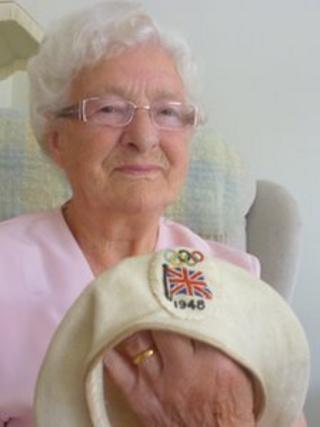 "You had to find your own shorts... and you had no footwear or anything like that. You had to find all those."
Gladys Pentland, who will be 90 in February, was British javelin champion when she was chosen to represent Great Britain at the 1948 London Olympics.
Now living in Weston-super-Mare, the former Birchfield Harrier had to pay her train fare to London to be measured for her official dress and blazer - and some Olympic trials were held at a Butlins holiday camp.
In the aftermath of World War II, she attended "only the one" special dinner, while rationing "was still on" and food parcels came from Australia.
Mrs Pentland, who was then Gladys Clarke, said: "We'd just come out of a war so you didn't get that excited.
"We didn't have the coaches, proper coaches or anything like that, like they've got today, masseurs or anything like that.
"They demanded that you wore white shoes and we went everywhere to get white shoes... It would be almost one week's wages to go and get a pair of shoes."
After the competition she went straight back to work in a wages office at a factory after using up her entire annual holiday entitlement of two weeks in London.
And while there will be huge media coverage of London 2012, events in 1948 at her only Olympics appeared to be lost on her fellow workers.
She said: "I was back at work on the Monday morning and not one word was said... The people where I worked weren't interested in sport whatsoever."
At her flat with a view of the sea, Mrs Pentland walked past her framed official photographs, handed over memorabilia and recalled the Wembley crowds.
Using a wooden javelin, she finished in 15th position with a throw of 29.59m but there were mitigating circumstances.
She said: "I was injured. I was told not to throw. I'd had hospital treatment and I said 'no, I've come this far, I'm throwing regardless of how I feel'.
"Never mind... It was an honour to compete."
Mrs Pentland was given her top to compete in, a blazer, her dress, an Olympics beret and a tracksuit, while competitors could go on a coach to watch events other than their own.
She said: "I remember the King and Queen were there and Prince Philip.
"They were not far away from us and I remember Prince Philip getting quite [excited] and King George VI put his hand across him to calm him down."
'Lot of fuss'
One of three Birchfield athletes at the 1948 Games, along with sprinter Winifred Jordan and the late triple jumper Sidney Cross, Mrs Pentland stopped competing in 1950.
She has been invited to a British Olympic Association dinner attended by the Princess Royal on 17 July for 1948 competitors - and to this year's javelin final.
Asked about 2012, Mrs Pentland said: "It's nice, but there's a lot of fuss... They're spoilt today.
"I can't get over this torch business anyway... I mean it's only [gone] around London for us."
But would she have liked more support?
"No, I don't think so. Don't forget we were definitely amateurs in those days - pure amateurs."
This week Mrs Pentland was given a tracksuit top in honour of her achievements by Birchfield representatives, including Norma Blaine MBE who has been at the club for six decades.
"We are trying to keep in contact with our older members so that our present youngsters realise that we have produced some Olympic representatives," said Ms Blaine.
"I think it can encourage them to try and achieve themselves what people have done in the past."