Bola and Fiyin Ejifunmilayo fire deaths: regulation breach to blame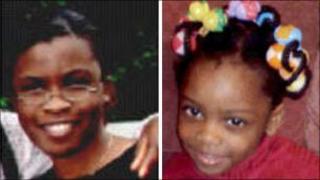 A lack of fire safety regulations contributed to the deaths of a mother and daughter in a flat fire in Milton Keynes, a coroner has ruled.
Bola Ejifunmilayo, 29, and her daughter Fiyin, three, died at Fishermead Boulevard in September 2010.
Their bodies were not found until the next day because it was believed all occupants were accounted for.
Milton Keynes Coroner Thomas Osborne said he would make recommendations to housing minister Grant Shapps.
He recorded a verdict that the Ejifunmilayos were unlawfully killed.
Barbara Zhanje, 48, of Kettering, Northants, was found guilty in 2011 of starting the fire to get back at her ex-boyfriend. She was jailed for 12 years for manslaughter.
'Extremely difficult'
Landlord Lookman Adeyami, 39, of Bletchley, was jailed for four months in March after he admitted three fire safety breaches.
The inquest had heard from PC Alana Heaver, who had spoken to Mr Adeyami by phone on the night of the fire.
She claimed he had told her the only woman and child at the flat were on the ground floor - not a room on an upper floor where the Ejifunmilayos lived.
A woman and her three-year-old daughter, who lived on the ground floor, had already left the fire, the inquest heard.
The house had been searched and an "all persons accounted for" message had been given out by the fire service at just after 04:00 BST, although the Ejifunmilayos were still inside.
Mr Osborne said throughout the inquest, which lasted six-and-a-half days, that multiple-occupancy buildings make it extremely difficult for emergency services to save lives.
With no record of occupants, crews cannot be sure they have got everyone to safety, the inquest heard.
Details of a 999 call made by Ms Ejifunmilayo, giving her location in the building, were not passed on, the inquest heard.
The information would not have helped crews find mother and daughter alive because of the severity of the fire and the inaccessibility of the building, Mr Osborne said.