Doctors' action affects Devon and Cornwall health services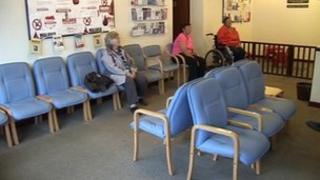 About 36% of GP practices in Cornwall and 20% in Devon were affected by doctors taking industrial action.
They were protesting against having to pay more for pensions, and having to work longer before receiving them.
At the biggest hospital serving both counties, Derriford in Plymouth, about 8% of doctors - 42 out of 541 - took part, hospital managers said.
The British Medical Association (BMA) said pension changes were not needed. The NHS said disruption was minimal.
BMA members across the UK boycotted non-urgent care on Thursday in a dispute over pensions.
The association has argued the government is wrong to try to change the current arrangements because a new deal was only agreed in 2008.
'Difficult for GPs'
GP and South West England BMA representative Dr Beth McCarron-Nash said: "The action is about the fact that the government ripped up an agreement where we future-proofed our scheme and we agreed to work until 65.
"But the government has said that's not enough."
Doctors not taking part in the action also said they were angry about the pension changes.
Plymouth GP Dr John Pickard said the changes had been "very difficult for all GPs".
He said: "GPs, even if they were working, do support this action. But they put their patients first."
In hospitals, the Plymouth Hospitals NHS Trust said outpatient appointments were reduced by 5% and 12 non-urgent operations were rescheduled because of the action.
Elsewhere in Devon, the Northern Devon Healthcare NHS Trust said it postponed 52 outpatient appointments, adding that about 550 patients attended such appointments on a typical day.
In Cornwall, the Royal Cornwall Hospitals Trust said it did not suffer "any significant disruption as a result of today's industrial action".
Health Secretary Andrew Lansley said much of the NHS operated normally.
He has also said that the the new pension deal - which he said was a fair one - would still go ahead.