Junior doctors told to shadow jobs to improve safety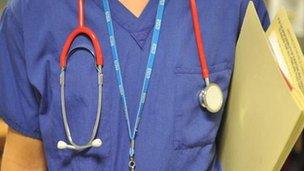 Junior doctors will have to spend at least four days shadowing their first job in the NHS before starting work, the government has announced.
The new system will be introduced in England this August when the new intake of junior doctors is taken on.
NHS medical director Professor Sir Bruce Keogh said the move would help improve patient safety.
Research shows that death rates go up at the start of August when the new cohort of doctors start work.
The shadowing period will be paid and spent mainly with the junior doctors who are already doing the job.
The new medics will get the chance to meet the other staff and learn about the systems in place, such as how to order blood tests and x-rays.
Sir Bruce said: "Patient safety and providing a high quality service is at the heart of a modern NHS.
"This shadowing period could potentially save lives and will equip new junior doctors with the local knowledge and skills needed to provide safe, high quality patient care."
Dr Tom Dolphin, of the British Medical Association, said: "I think it will really help doctors hit the ground running.
"It is a stressful time starting your first job so this will be a good way of easing that."
The decision to introduce shadowing comes after pilots have been carried out in various places.
In Bristol mistakes new doctors made in their first four months were reduced by 52% during the pilot.
Related Internet Links
The BBC is not responsible for the content of external sites.