London 2012: Southeastern publishes new timetable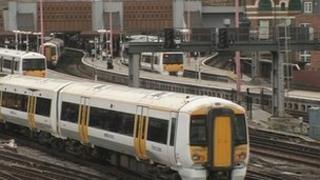 Commuters using Southeastern trains to and from London have been warned to expect changes during the Olympics.
The firm has brought in a new timetable which the government has instructed must give priority to spectators and people going to the Games.
It will run from 28 July to 12 August, and from 29 August to 9 September.
Spokeswoman Sarah Boundy said: "There won't be the normal high speed service and actually mainline and metro services alter significantly as well."
She added that the network would be "exceptionally busy" some of the time, and it was important that people planned ahead.
The high speed service will completely change to become the Javelin shuttle service, and will operate between St Pancras, Stratford, and Ebbsfleet, with the occasional train going onto Faversham, she said.
"For the majority of those services, they are going to be carrying around 25,000 people an hour into and out of Stratford. High speed customers will need to change trains."
Queuing systems for people getting onto trains will also be in place at London stations to limit the number of people on the platforms and to keep people moving, Ms Boundy added.
The new timetables have been published on the Southeastern website . Paper copies will be available at stations from the beginning of July.