Southern Railway extends scheme to report crime by email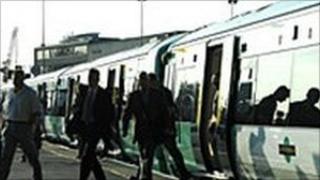 An initiative which encourages rail passengers to report incidents of low-level crime by email is being extended through Sussex, Surrey and Kent.
Southern Railway wants its passengers to report incidents of anti-social behaviour, vandalism and fare evasion.
The scheme, which is called Eyewitness, has already been trialled on a small part of the Southern network.
The company said 160 of its staff members across its network received the Eyewitness emails.
Martin Grier said: "If we're able to intercept the train and the individuals we will do... if we're not able to do that, we track everything that comes in and we fit it into a pattern and then we'll do some taskings around specific areas."
During the trial of Eyewitness, passengers reported people travelling without tickets, loitering at stations and causing graffiti on Southern's property.
The initiative is now running on the Arun Valley line, the East and West Coast ways, the Tattenham Corner lines, the Brighton mainline and surrounding areas, which include East Grinstead, Haywards Heath, Horsham, Oxted, Tonbridge and Caterham.
Mr Grier added: "It's a system that allows people to discreetly let us know what's happening without really putting themselves into the limelight.
"You simply email eyewitness@southernrailway.com giving us the location, the time, what's happening and a brief description of anybody who's in the situation."