Scrap metal sellers targeted by South West police forces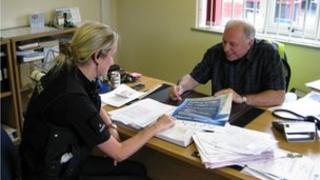 A number of scrapyards in west and south-west England are asking for proof of ID from those wanting to sell metal.
The idea has been introduced as part of a scheme jointly launched by five police forces across the region.
Scrapyards that have signed up to the scheme are to request a passport, national identity card or photo driving licence, as well as proof of address.
Its aim is to make it easier to trace stolen metal and restrict the market in which thieves can operate.
Operation Tornado will see collaboration between Avon and Somerset, Dorset, Devon and Cornwall, Gloucestershire and Wiltshire Constabularies.
'Intrusive approach'
Metal theft is estimated to cost the UK approximately £1bn a year.
The scheme has already been tried in north-east England, with police in Northumbria, Durham and Cleveland reporting a drop of approximately 60% in opportunistic metal thefts.
Supt Mark Saunders from Avon and Somerset Police said the majority of scrapyards had signed up to the scheme.
"It has not been designed to inhibit legitimate dealers but to target those who actively and knowingly trade in stolen material," he added.
"However, should it prove necessary, we will use all the appropriate powers available to us to investigate and deal with businesses that we suspect are dealing in stolen metal, and will continue to take an intrusive approach in dealing with the thieves and handlers who make money at a cost to each and every taxpayer."