Dartford crossing delays 'damaging business growth'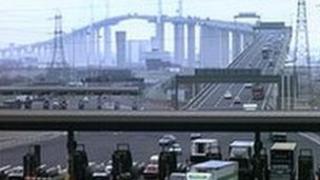 Continued congestion at the Dartford crossing between Essex and Kent is damaging economic growth, business leaders claim.
A free flowing toll system is due to be introduced by 2014, but the South East Local Enterprise Partnership (SELEP) wants it brought in sooner.
Partnership members have expressed concern the new timetable for free flowing tolls will not be met.
They also want barriers lifted at peak times of congestion to ease delays.
Some of the revenues raised from the increases in the tolls should also be diverted towards a third Thames Crossing, business members said at the latest SELEP board meeting.
Chairman John Spence said: "Freeing up our congested transport system will help businesses in the South East and UK PLC as a whole.
"I can assure local businesses that we will continue lobbying for an earlier introduction of free flowing tolling and a relaxation of the criteria for raising the barriers."