Joint Strike Fighter: Marham logical base says Hammond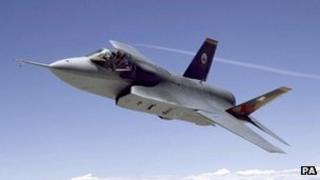 Defence Secretary Philip Hammond says RAF Marham in Norfolk is "the logical" choice as a base for the new Joint Strike Fighter (JSF) aircraft.
Intense local lobbying has helped secure Marham's future as the home of the Tornado. Now what people want to know is whether there is a realistic chance that its successor will be based in the county.
"The decision won't be made yet. The location of the base, its proximity to Lakenheath (an American airbase nearby) and the engineering on site does make it the logical choice," says Mr Hammond.
Four Tornado squadrons are based at RAF Marham. The JSF is seen as a replacement to the Tornado which will be phased out within 10 years.
There has been competition between RAF Marham and RAF Lossiemouth in Scotland.
If the fighter is based at Marham, where all major Tornado servicing is carried out, it will secure the base's long-term future and with that comes 5,000 jobs and £130m for the local economy.
Mr Hammond made his comments at a Downing Street reception held in the in the pretty garden of Number 10. The soiree was also attended by Transport Secretary Justine Greening.
She told us she couldn't wait to launch her "call for evidence" considering what to do about increasing air capacity in the south east.
"I'm waiting for government air traffic control to give me permission to take off," she said, while confirming her long-awaited consultation will not contain any suggestions for expansion.
"I am going to be laying out the extent of the problem and asking for suggestions about how we tackle air capacity not just in 10 years' time but 20 and 30 years' time."
And she added the solution may not be "an extra runway here or there which would only be a short-term fix" but "something bigger" which makes us wonder if she's warming to the idea of building a brand new hub airport.
Could the possibility of Boris Island in the Thames gain ground?
When the conversation moved to railways, Ms Greening confirmed she was still very much in favour of HS2. She said the government was now spending more on rail than road and expressed admiration for the Victorians, who, she said "had built for the long-term future rather than for short-term fixes".
This is what she hoped to do with rail she said, but glancing towards Chief Secretary to the Treasury, Danny Alexander standing nearby, she noted "you ought to be speaking to him".