Piers Hopson: Body found in 2010 identified through DNA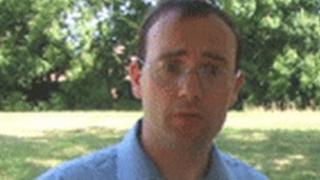 A body found at sea almost two years ago has been identified as that of a man who went missing in East Sussex, his parents have said.
Piers Hopson, 35, who had Asperger syndrome, was last seen leaving his care home in St Leonards in January 2010. His parents have been told the body was found in September that year.
His mother, Dawn Hopson, said a DNA match was made with her son last week.
"Now, at last, we can grieve and find closure," she said on Facebook.
The last sighting of Mr Hopson was in Rock-a-Nore Road on Hastings seafront.
Mrs Hopson and her husband, Roger, from Crowborough, offered a reward for information about their son and made a TV appeal to try to find him.
Taken to France
They visited Tunbridge Wells railway station in Kent every day for two weeks afterwards in the hope that he would arrive there by train, as he did when he visited their home.
In a renewed appeal for information last January, they said they had not given up hope he would be found alive and hoped someone was taking care of him.
Mrs Hopson said on Facebook the body was found eight miles south of Newhaven by a French fishing boat and taken to France.
She thanked friends for their help and support.
"The messages we have received through this page have been such an encouragement to us during the last two-and-a-half difficult years," she said.