Hinchingbrooke Hospital tops NHS patient satisfaction poll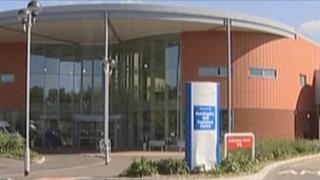 The country's first privately-run NHS hospital has come top in a pilot patient satisfaction survey.
Nine out of 10 in-patients questioned at Hinchingbrooke in Cambridgeshire said they would recommend the treatment they received to family or friends.
The Circle Health-run hospital's score was equalled by Robert Jones and Agnes Hunt Hospital in Shropshire.
The government has announced the NHS Midlands and East pilot will be rolled out to all NHS hospitals by April 2013.
Results from more than 22,000 recent patients at 46 hospitals showed a "wide difference" in levels of satisfaction, the NHS said.
'Acid test'
Dr Stephen Dunn, director of policy and strategy at NHS Midlands and East, responsible for delivering the Friends and Family Test, said: "Those at the top need to understand what it is that is making people recommend them, and do more of it.
"Those who are towards the bottom need to understand why and do something about that."
Ali Parsa, chief executive of Circle, said their model offered an "an alternative to cuts and closure for struggling NHS hospitals across the country".
Chief executive of Robert Jones and Agnes Hunt Hospital, Wendy Farrington Chadd, said: "Recommendations to family and friends represent a real acid test for quality of care experience.
"Any feedback from patients, particularly 'real time', is extremely valuable in supporting continued improvements in quality."
Almost 15% of in-patients responded to the survey.
Results were based on the proportion of patients unlikely to recommend a provider (detractors), subtracted from the proportion of patients who would recommend it (promoters), giving a score ranging from +100 (all positive) to -100 (all negative).
The average score across the region was +62, but individual hospital scores ranged from +29 to +89.
Hospitals with lower satisfaction rates included Chesterfield Royal Hospital (+35), Cambridge University Hospitals (+41), and Coventry and Warwickshire (+44).
A spokesman from Cambridge University Hospitals described the result as disappointing.
"Based on the same survey material that the Friends and Family Test relies on, patients have rated us highly on a number of key measures," he said.
"For example, 95.3% of patients said their overall impression met or exceeded their expectations and 97.1% said we had met or exceeded their expectations in terms of respecting their dignity."
An NHS spokesman said the intention of the survey was to encourage improvements, not "name and shame" individual establishments.
"This results in comparable data across all trusts which will help patients make choices about their care," he said.