Ordnance Survey maps to include 'nicknames'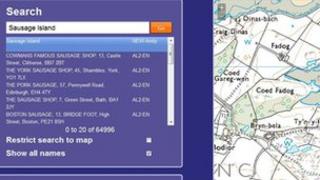 Map makers and coastguards are teaming up to collect "nicknames" for places to improve emergency responses.
A new system by Ordnance Survey is being trialled in the Maritime and Coastguard Agency's rescue centres.
Staff at Clyde, Solent, Holyhead and Stornoway will add the alternative names of beaches, rocks and waterways.
Glen Hart, head of research, said: "By having a set of unofficial names we could help the emergency services quickly locate the right place."
The idea is to improve local knowledge as the Coastguard moves to a national operations centre in Fareham, Hampshire.
Steve Brown, head of technical development at the Maritime and Coastguard Agency, said: "Our coastguard staff hold an enormous amount of local knowledge, which is often key to emergency response and coordination.
"As we move towards a national maritime operations centre, we will have a heavier reliance on geographic information and we will need to ensure that we robustly incorporate our local knowledge within the modernised coastguard organisation."