PC Ian Terry shooting: Police officers keep anonymity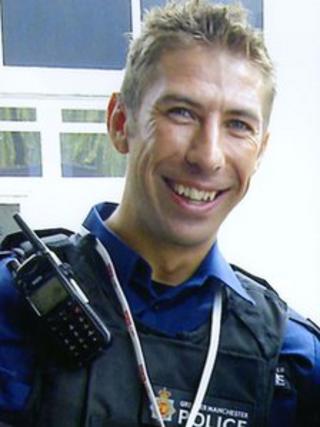 Two police officers being prosecuted after a colleague was shot dead during a firearms training exercise have been successful in keeping their anonymity.
PC Ian Terry, 32, from Burnley, died after being shot in the chest by a Greater Manchester Police (GMP) colleague, in 2008.
The Health and Safety Executive (HSE) is prosecuting GMP and two officers over breaching health and safety law.
The officers involved re-applied for an order granting them anonymity.
The hearing at Trafford Magistrates' Court was adjourned until 4 September.
Mr Terry was not wearing body armour when he was shot by a fellow officer during training in a disused factory in Newton Heath.
He was hit from a distance of about a foot by a blank round of a specialist ammunition called round irritant personnel, which is not designed to kill but can be deadly at such close range.
In March, the Crown Prosecution Service said it would not be bringing criminal charges against the officer who shot him or GMP.
An inquest at Manchester Coroner's Court in March 2010 found PC Terry was "unlawfully killed".