GCHQ gives rare Enigma machine to Bletchley Park museum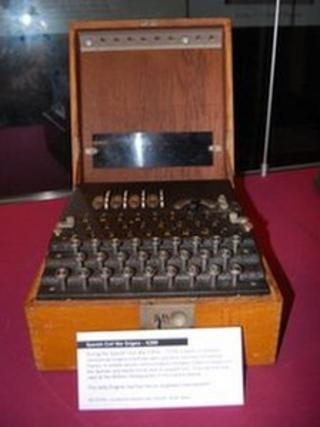 One of two rare code-breaking machines used in the Spanish Civil War has been given to the Bletchley Park Trust.
Both Enigma machines were given to the head of GCHQ in Cheltenham, Britain's communications intelligence agency, by its Spanish counterpart in March.
Now one of them is to be put on public display at the Bletchley Park Museum.
The machines were rediscovered in 2008 after spending 60 years in storage in Spain, and GCHQ began negotiations to bring them to Britain.
Tony, the GCHQ historian, said: "At the start of the Spanish Civil War in 1936, Gen Franco got in touch with Germany to ask for help with secure communications, and the first 10 Enigma machines were sent to Spain.
"They were used by nationalist forces and German and Italian forces supporting Franco."
He added that up to 40 machines had been carefully mothballed in the late 1940s but then rediscovered in a storeroom four years ago.
The machine handed to the Bletchley Park Trust will join one of the largest collections of Enigma machines on public display anywhere in the world.
Bletchley Park was the site of secret British code-breaking activities during World War II.