Independent school is first to sponsor a state primary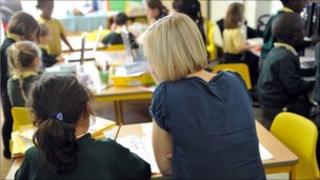 One of the region's leading independent schools has become the first in the country to sponsor a state primary school.
New Hall School in Chelmsford will work with Messing-cum-Inworth Primary School to help it get out of special measures.
The move has won praise from the government.
The Schools Minister Lord Hill said: "I believe independent schools can play an important part in helping under performing state schools to improve."
"I'm delighted that New Hall School is leading the way and I hope other independent schools will choose to follow its lead."
Working together
The government is keen to encourage the independent sector to share what ministers have called their "educational DNA" with state schools.
Across the region several partnerships have been forged between secondary schools, but this is the first time that one has been formed involving the primary sector.
"This is about working together, in our local community, to respond where there is a need and to promote educational excellence," said New Hall's principal, Katherine Jeffrey.
"I have no doubt that such a partnership between the two schools is mutually beneficial."
New Hall has 1,160 students and more than 100 teachers.
Messing has 40 pupils and three teachers, one of whom is the head.
"The last year has been difficult, pupil numbers dropped 26% after the bad OFSTED report," says Katharine Evans, one of the school governors.
"I believe we've got a bright future and the involvement of New Hall is an exciting opportunity and will play a big part in helping us turn things around."
"What we will do is plough in resources and expertise," says New Hall's director of communications, Tom Warmington.
"The school will be completely financed by the Department for Education but we will take on the day to day running of the school.
"Our finance department will look after the purse strings and our principal will act as executive head. And when it comes to expertise, our teachers will spend time with the teachers there."
"Our aim is to get the school out of special measures and improve pupil numbers. We have no time limit."
New challenge
Only last week Anthony Seldon, the master of Wellington College, said independent schools had "lost their moral purpose" because so few were agreeing to work with the state sector.
The man who's been asked by the Prime Minister to oversee the initiative told the Observer newspaper that he was frustrated by the slow take-up.
"The reality is that most governing bodies don't want to bond with state schools.
"They put up spurious reasons such as parental objections for masterly inactivity."
New Hall is the exception to the rule and it's looking forward to its new challenge.