Ukrainian fake marriage fixer deportation in doubt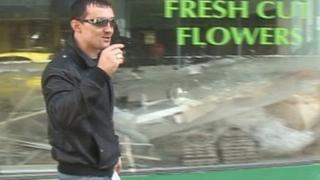 The deportation of an illegal immigrant convicted of being the principal organiser behind hundreds of sham marriages has been thrown into doubt after proceedings were withdrawn.
Ukrainian national Vladimir Buchak, 34, was jailed for organising fake weddings in St Leonards, East Sussex, in 2010.
He was released from jail in July 2011 and has so far not been deported as he has two children living in the UK.
The UK Border Agency said it would continue to pursue Buchak's removal.
In a letter sent to Conservative MP Amber Rudd, whose Hastings and Rye constituency includes St Leonards, the UK Border Agency said it was actively pursuing his deportation.
However, it added: "The decision to deport was withdrawn by the UK Border Agency on 24 May 2012 in order to reconsider our decision as the original decision had not taken account of recent case law in respect of the rights of Mr Buchak's children."
'Known criminal'
Ms Rudd said Buchak should not use his children "as a shield".
"We must stay on his case and try and make sure he is deported now," she said.
"The judge has made his decision, we know he's a known criminal. I want him out of Hastings and Rye and back to the Ukraine."
During Buchak's trial, Lewes Crown Court was told he paid eastern Europeans up to £3,000 each to marry Africans, mainly from Nigeria.
His co-defendants, the Reverend Alex Brown and solicitor and pastor Michael Adelasoye, 50, were also jailed for four years in September 2010.
The jury was told Brown conducted 360 sham marriages during a four-year period at the church to bypass immigration law.
When sentencing Buchak to four years in prison, the judge ordered him to be deported on release.
The UK Border Agency spokesman said: "Legal matters have delayed deportation but we continue to pursue the removal of this convicted criminal."