Women bishops vote facing postponement at general synod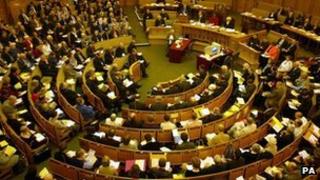 There are growing signs that a key vote on the issue of women bishops due on Monday will be postponed by the Church of England's ruling general synod.
There is deadlock over a concession aimed at appeasing those who are unwilling to accept women being allowed to become bishops.
Campaigners for women bishops say they will vote against the legislation unless the concession can be reworded.
Members of the synod have been meeting in York since Friday.
A compromise that would involve introducing women bishops, but also providing alternative oversight from male bishops for traditionalist parishes opposed to the move, was backed last year by the Church's 44 local dioceses.
Flurry of letters
But, largely in order to secure the support of moderate conservatives in the synod who are sympathetic to traditionalists, senior bishops amended the legislation to ensure it would also give such parishes the right of access to a male bishop who shared their beliefs about women's ordination.
Campaigners for women bishops have used a flurry of letters and petitions to lobby synod members to adjourn the debate so that that concession can be removed.
BBC religious affairs correspondent Robert Pigott says there are increasing signs their move is working.
An emergency meeting of bishops on Saturday is reported to have discussed the risk of an embarrassing and damaging rejection of the legislation altogether if the amendment to the legislation is allowed to remain, he says.
If bishops support an adjournment it is highly likely to succeed, with the final vote postponed to a new synod in November.