Surrey vicar completes charity walk to Holy Island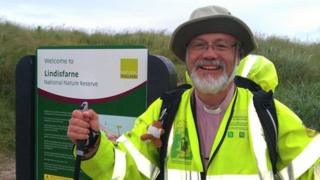 A vicar has completed a 360-mile (580km) walk from Surrey to Holy Island off the Northumberland coast.
The Rev Bruce Nicole arrived at Lindisfarne at 11:00 BST on Monday after setting off from St Michael's Church in Camberley on 10 June.
Mr Nicole took his boots off and dipped his feet into the sea when he got to the sands at Holy Island.
"There's a bit of drizzle but it's bracing. It's wonderful to get here to Holy Island," he said.
He hopes to raise thousands of pounds towards the £2.6m modernisation of the Victorian St Michael's church building.
Mr Nicole added: "I'm just taking my boots off and walking on to the sands at Lindisfarne. I have a real sense of relief to have got here.
"The weather has been quite kind to me."
He arranged to stay with vicars at churches along the route and kept parishioners updated on his progress via a blog .
"I've really enjoyed and been thrilled by, and humbled by, being welcomed into so many homes.
"As I've gone from place to place it's reminded me that we often live in our own bubble," Mr Nicole added.
Education Secretary Michael Gove MP is patron of the multimillion-pound scheme to carry out structural repair work, make the building accessible to the disabled and elderly and creating a new community space at St Michael's.