Inquiry over evacuation of flooded Ross-on-Wye homes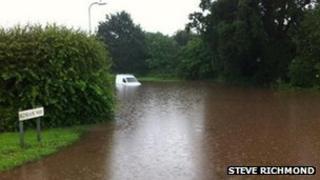 An inquiry is to be held after homes in a Herefordshire village had to be evacuated after flash flooding.
About 20 elderly people in Smallbrook Gardens, a sheltered housing complex in Ross-on-Wye, were taken to a community centre on Friday morning.
Councillor Andrew Atkinson said the county council would be holding an inquiry after the "extremely slow actions" of Herefordshire Housing.
No one from Herefordshire Housing was available for comment.
On Friday, Herefordshire Housing said environmental analysis work would be carried out towards minimising any future problems.
Mr Atkinson, ward councillor for Ross-on-Wye east, said six homes in Tudorville were also affected but not evacuated.
He said: "We have been critical of [Herefordshire Housing] as they were extremely slow to act on the day and a lot could have been avoided if actions had been taken a lot sooner.
"There was no real provision or support from them over the weekend and in my opinion the reaction was substandard and that's the reason they let people down."
On Friday, Herefordshire Council said it received more than 120 reports of flooding across the county and more than 4,000 sandbags were handed out.