Southsea beach torso: Police charge man with murder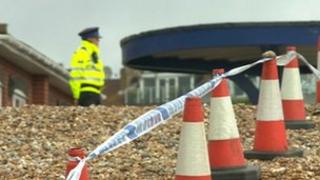 A 46-year-old man has been charged with murdering a man whose torso was found on a Hampshire beach.
The remains of David Guy, 30, were discovered by a group of students on Southsea beach, Portsmouth, on Tuesday.
David Hilder, from Richmond Road, Southsea, is due to appear before Portsmouth magistrates on Tuesday.
Mr Guy's torso was found wrapped in a pink curtain inside a bin liner. Police are continuing to examine an address in Richmond Road, Southsea.
The lower half of Mr Guy's body was found on rocks in front of Castle Field, Southsea, by police on Friday morning.
Mr Guy had no fixed address but was believed to have been staying in Southsea before his death.
Mr Hilder was arrested on Thursday.