Conservative candidates for Durham and Cleveland police role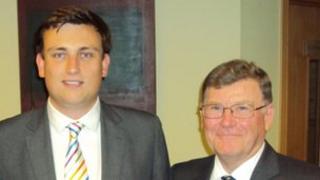 The Conservative Party has announced its candidates for police commissioner roles for two North East forces.
Ken Lupton, a local councillor and former leader of Stockton Council, will stand for Cleveland Police.
Nick Varley, the Conservative candidate for the City of Durham constituency in the 2010 General Election, was selected for Durham Police.
Voters will go to the polls to elect commissioners for the 41 force areas in England and Wales on 15 November.
Mr Lupton said: "I will campaign to ensure our communities are at the heart of policing and that the priorities of the police are the same as those of everyone who relies on the good work they do."
Mr Varley said: "I want policing to focus on the needs of Durham's many communities and will put the personal touch at the heart of how we fight crime in our county."
In June, Labour announced that Ron Hogg would stand as the party's candidate for Durham and Middlesbrough councillor Barry Coppinger for Cleveland.
The Liberal Democrats have announced they will not fund candidates.