New Frimley Park Hospital emergency department to open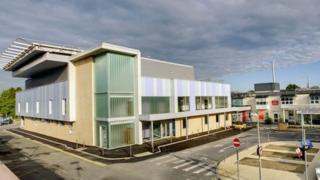 A new hospital emergency department serving about 400,000 people in Surrey, Hampshire and Berkshire is to open later.
The £22m extension at Frimley Park Hospital, near Camberley in Surrey, includes a day surgery unit and air ambulance helipad.
The hospital said the new eight-bay resuscitation area was one of the biggest in Europe.
The department has been designed to treat 100,000 patients a year.
Andrew Morris, chief executive of Frimley Park Hospital NHS Foundation Trust, said: "It has been a challenge to build this massive project on a working site while we're continuing to run at full speed."
The trust said it had not taken out any loans or Public Finance Initiative (PFI) arrangements and the new department had been funded from savings the hospital had made over several years.