Union advises bus drivers to take Olympics bonus deal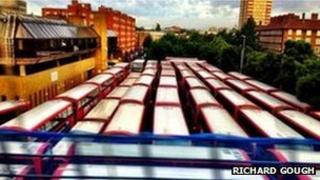 Bus drivers in London demanding a bonus for working the Olympics have been recommended by their union to accept a pay offer.
Drivers from 20 companies will now consider the deal, which is being kept under wraps.
Unite union said the deal followed six days of talks at the conciliation service Acas.
Staff, who want a £500 bonus, walked out for 24 hours last month and were planning to strike again on 24 July.
Ballots will be held on 17 July, when the union will make the offer public.
During the talks, bus companies offered a bonus of £583 to drivers working 24 of the 29 days that the Games are on, or £700 for drivers in busy garages.
Transport for London (TfL) also said it would split extra revenue from the Games half and half with bus operating companies on the condition it was passed on to bus staff.
Unite regional secretary Peter Kavanagh said: "Following a London-wide strike and days of intensive negotiations, we now have an offer which Unite is recommending to London's bus workers.
"By standing together, London's bus workers got 20 London bus operators around a single negotiating table.
"We believe the offer is a fair one that recognises the work bus workers will be doing to keep London moving during the Olympics. "
The dispute follows union claims that other transport workers are set to receive bonuses for working the Games.
Unite said workers at Heathrow Express are to get £700, Network Rail £500, Docklands Light Railway £900, London Overground £600 and London Underground at least £850.