Kennet and Avon Canal care transferred to Canal and River Trust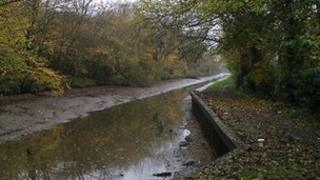 Responsibility for the Kennet and Avon Canal is transferring from the government to a new trust from Thursday.
The Canal and River Trust has taken on the care of 2,000 miles (3,220km) of canals and rivers in England and Wales from British Waterways.
The trust aims to attract new investment and give local people a greater say in canal management.
The charity says it is the largest ever transfer of state assets to charity.
The Kennet and Avon Canal, which runs between Reading and Bristol, opened in 1810.
The trust now wants to raise £10,000 to restore hedgerows along the canal to create habitats for creatures including hedgehogs and bats.
It also wants to reclaim eroding canal banks to provide a reed habitat for voles and dragonflies, and transform the towpath in Bath with new plants.
The trust is also creating a new woodland to celebrate the Diamond Jubilee alongside Caen Hill Lock Flight in Devizes, Wiltshire, in conjunction with the Woodland Trust.
It wants to create an orchard for the community in the woodland and is appealing for donations to enable it to undertake the work.