Artist creates post-apocalyptic vision of MediaCityUK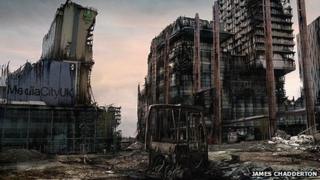 A Derbyshire artist has revealed an apocalyptic vision of one of Greater Manchester's newest locations.
James Chadderton's picture of Salford's MediaCityUK features a ruined view of the BBC's Dock House, alongside the area's studio block and hotel.
The Glossop artist said the complex's "clean design" made it "particularly difficult to deconstruct".
The work is part of his show at the University of Salford, where Mr Chadderton studied.
'Abandonment and attrition'
He said he had wanted to depict the whole area, including the other BBC buildings and the University of Salford's campus, but could not get the "desired level of detail".
"It was particularly difficult to deconstruct such a new and clean design as the large proportion of glass panelling used in MediaCityUK created all sorts of issues to overcome," he said.
"I still wanted to maintain the buildings' structure, so the audience could clearly link the fictional environment with the actual one.
"There aren't a huge amount of completely destroyed structures. They are more eroded, fire-damaged and partially collapsed, which has given the landscape the desired look of abandonment and attrition over a period of time."
Mr Chadderton has previously held an exhibition of images of a post-apocalyptic Manchester, which included depictions of the city's Palace Theatre and the National Football Museum.
His exhibition at the University of Salford's Clifford Whitworth Library runs until 16 September.