Morecambe Bay NHS trust patients 'at risk of poor care'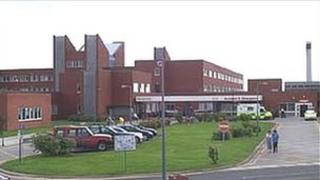 Patients at University Hospitals of Morecambe Bay NHS Foundation Trust were "at risk of poor care", a report said.
Staff felt "helpless" about how emergency care was managed and the trust was "slow to respond" to recommendations The Care Quality Commission (CQC) said.
Among its findings were people waiting too long to be seen and too few staff.
The trust, which runs four hospitals in Cumbria and Lancashire, accepted the findings and apologised.
The report also stated that accident and emergency services at the Royal Lancaster Infirmary and Furness General Hospital did not meet national targets and concerns remained about monitoring the effectiveness of treatment.
'Distressing to read'
Amanda Sherlock, CQC director of operations, said: "The standards of care we found were not good enough, with people waiting too long to be seen, too few staff on duty, patients not being monitored properly and patients being accommodated in mixed sex wards, or sometimes in wards not appropriate to their condition."
Trust chairman Sir David Henshaw said he accepted the findings and "sincerely apologises" for the way in which patients have been let down.
He said: "It is distressing to read in the report examples of care that took place that fall below anyone's acceptable standards of care.
"Let me be clear, the new trust board will not accept, or tolerate this level of care for our patients.
"Significant progress has been made to ensure services are safe as patient safety is our number one priority."
Barrow and Furness Labour MP John Woodcock said: "The people of Furness love their hospital but this report shows they have been badly let down by managers who failed to learn lessons highlighted by past tragedies."
He welcomed the improvements that were now being made.
Tim Farron, Liberal Democrat MP for Westmorland and Lonsdale, called for urgent change in the wake of the "damning" report to prevent a similar situation in the future.
The CQC report covered January to March 2012 and it will carry out a further review in six months.