Cotswold Airport crash runway partially reopens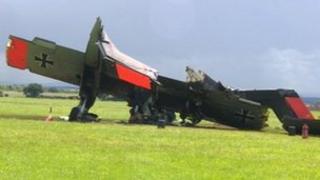 The runway at Cotswold Airport has partially reopened three days after a Bronco plane crash-landed.
A 47-year-old pilot from Belgium suffered serious burns but was said to be in a stable condition after the practice flight crash on Tuesday.
Unlicensed aircraft are now able to use the runway, which has had its width temporarily reduced.
The Bronco aircraft was in the UK to be part of a static display at the 2012 Royal International Air Tattoo.
Counter-insurgency
Following the incident, the Breitling Aerobatic Jet Display, which was en route to the Farnborough Airshow, had become stranded at the airport.
The France-based team had eight aircraft on the ground but were able to take off and depart on Thursday.
A spokesman for the Royal International Air Tattoo said the Bronco, which was based at Kortrijk-Wevelgem airport in Belgium, was a light attack and reconnaissance aircraft.
It was developed in the 1960s as a special aircraft for counter-insurgency combat and was used during the Vietnam War.
The cause of the crash is being investigated by the Air Accident Investigation Branch.