Eaglescliffe twins Hollie and Mel Walker are first class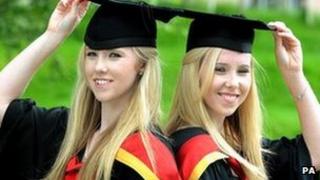 Twins from Teesside will start their law careers together after graduating from Northumbria University with First Class honours.
Hollie and Mel Walker, 22, from Eaglescliffe, scored identical marks in one exam despite answering different questions.
They will start work for a Newcastle law firm next year.
Mel said: "We've pretty much matched each other even though our tutors say we write completely differently."
The twins have graduated with Law Exempting Degrees and both scored 72% in their employment law exam.
Camp America
Mel said: "I'm sure when our tutors were reading the papers they thought it was strange because we both did different questions."
During their time at university, Mel and Hollie have worked the same jobs, at the Newcastle United Foundation, waitressing at Newcastle Civic Centre and helping the University's student recruitment teams.
Mel said: "It's really hard to get training contracts and we were offered them in September. Ward Hadaway recruit two years in advance so we've got a year out before we start."
Hollie added: "We just motivate each other. We naturally get compared because we are twins and we always want to do better than each other.
"But it's great to get a high achievement together."
Hollie and Mel, who went to Conyers School in Yarm, are planning on working at Camp America before finding jobs on Teesside before starting their full-time careers.