East of England flooding: Heavy rain leads to road closures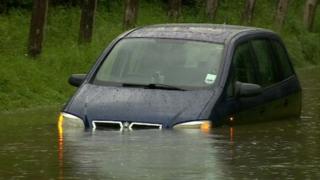 Flooding led to road closures in parts of the East of England as two thirds of a month's rain fell in 12 hours.
The westbound A14 in Suffolk was closed near Ipswich for nearly two hours, while homes in Lavendon, Buckinghamshire were hit by floods.
In Cambridgeshire, some roads were flooded in Meldreth, Dry Drayton and Comberton, while parts of the A45 in Northamptonshire were also affected.
Forecasters said 30mm (1in) of rain had fallen overnight in some areas.
Dan Holley, of Weatherquest, based at the University of East Anglia, said: "Some places around Ipswich had more than 30mm of rain.
Flood warnings
"We'd expect between 45-50mm (1.77 to 2in) in a month so that's two thirds of the expected rainfall in 12 hours in some places."
The Met Office has issued an amber warning for severe weather in East Anglia - one below the most serious level.
The Environment Agency made five flooding warnings in Northamptonshire and Cambridgeshire.
Fire crews were called to pump out water affecting 11 homes in Soames Close, Lavendon, near Milton Keynes, just before 05:00 BST.
Ann Watts, who lives in nearby Onley Road, estimated at least 20 homes in the village had been hit by floods.
"I heard the rain through the night and then heard this gurgling noise," she said.
"I looked out the back and our garden was under water. Our flooring has been destroyed but I think the furniture is ok.
"We were putting stuff upstairs and sofas on tables. All this was going on at about 05:00 BST."
'Absolute shock'
Terri Hunt, who also lives at the address, added: "It's an absolute shock. This hasn't happened around here for 30 years."
In Suffolk, the A143 at Stradishall was closed for about three hours and many minor roads left submerged, police said.
A force spokesman said an isolated house in Hintlesham, near Ipswich, had been flooded.
Rain also affected the Latitude Festival, near Southwold, Suffolk, attended by up to 35,000 people.
BBC reporter Richard Haugh, who is at the music and cultural festival, said: "The main area continues to hold up well but the pathways through the woods and camping sites are becoming increasingly muddy."
Cambridgeshire police said flooding had mainly hit the south of county.
The A45 in Northamptonshire was temporarily down to one lane in places due to water levels.
In Essex, firefighters pumped flood water out of Furtherwick Road, on Canvey Island.
Visitors to the Tendring Hundred Show, an agricultural event near Manningtree, in Essex, were warned of "very slippery" conditions.
English Heritage cancelled its two-day Festival of History event planned for this weekend, at Kelmarsh Hall, in Northamptonshire, due to rain.