East of England flooding: Warnings remain as clear-up starts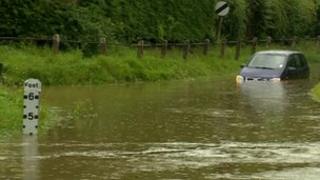 Two flood warnings remained in place in the East of England as a clear-up operation began after heavy downpours.
Forecasters said as much as two thirds of a month's expected rain fell in 12 hours on Saturday.
Roads were flooded in Suffolk, Essex, Cambridgeshire and Northamptonshire. Some homes were also affected in Suffolk and Buckinghamshire.
The Environment Agency put warnings on the River Kym, in Cambridgeshire, and the River Nene, in Northamptonshire.
Cambridgeshire police said Comberton Road, in Barton, was the only remaining route in the county under water.
Other forces in the region said floodwater had been cleared from roads.
In Lavendon, Buckinghamshire, home owners were continuing to dry out their homes after floodwater entered at least 20 properties in the village.
One home in Hintlesham, Suffolk, was also flooded, police said.
Forcecasters said 30mm (1in) of rain had fallen within 12 hours on Saturday.
Typically, between 45-50mm (1.77 to 2in) would be expected in a month.