Beachy Head death: National Trust considering new signs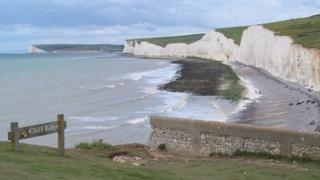 The National Trust has promised to look into whether extra signs are needed at a Sussex beauty spot where a walker from Kent fell to her death.
Laraine Goodwin, 49, of Sundridge, near Sevenoaks, fell 300ft (90m) at Beachy Head, near Eastbourne, on Saturday.
Walkers at the National Trust site have expressed surprise at the lack of warning signs in the area.
The trust says there are already signs "at appropriate intervals" but has pledged to consider improvements.
Mrs Goodwin died after falling over the edge of the cliff as she and her husband walked their dog near the Belle Tout lighthouse at about 15:00 BST on Saturday.
Police have ruled out suicide or foul play, and have described her death as a "tragic accident".
Measured response
Ken Walker, who was walking near where Mrs Goodwin fell on Saturday, said: "Children could just run off the cliff. There's no notice to say don't go there. It's incredible."
But a spokesman for the National Trust said warning signs were in place. Geri Silverstone said: "We do have signs at appropriate intervals up on the cliffs. As people go up from the car park there are signs before they enter our land.
"We try not to make our signs too much as if they are telling people off, so they say, 'Be careful: cliff edge'."
But he added: "We will need to look into this incident and see whether lessons need to be drawn from it, including looking at whether there is a need for more signage.
"We will take a measured response."
Mr Silverstone said a problem with putting up fences along such a large expanse was how much to cover.
"What would be a more prudent way of doing this is by people understanding the message that they have to be respectful of the environment where they are, that it is an ever-changing landscape."
A post-mortem examination will be carried out on Mrs Goodwin's body later this week.