Great Western Air Ambulance appeals for new helicopter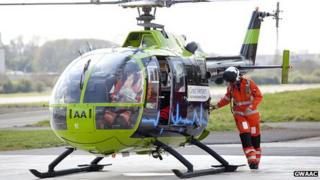 The Great Western Air Ambulance is appealing for £250,000 to replace its "ageing" aircraft with something new.
It has launched a campaign saying the old helicopter must be replaced to meet the needs of modern air medicine.
The charity's chief executive, John Christensen, said a new EC135 aircraft could get to any event four minutes quicker than the old ambulance.
The service has been in operation since 2008 and covers areas around Bristol, Bath, Gloucestershire and Wiltshire.
'More space'
Its current aircraft, a Bolkow 105, loads patients in at the rear and flies at 150mph (240kph).
The EC135 flies at 180mph (290kph) and loads patients in from the side, which is said to be quicker and safer.
"[This means] we can put a patient into the helicopter without having to remove any of the drips or electrical leads that are most often attached to people," added Mr Christensen.
"It also means there is more space around them so if anything happens whilst they're in the air the paramedics are able to deal with it.
"And we have room to carry a passenger along with the patient which is much nicer if you're taking a child to hospital [because] you can take a parent with them, that sort of thing."
The Great Western Air Ambulance helicopter, which has been flying out of Filton Airfield since 2008, covers Bristol, Bath and the surrounding counties as well as Gloucestershire and Wiltshire.
It costs up to £1.5m a year to run with each flight costing £600 - each minute of flight time alone costs about £15 in fuel.