Shafilea Ahmed death: Youngest member of family denies she was coached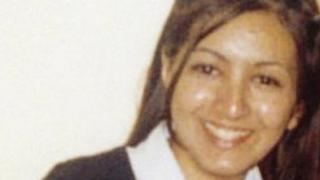 The youngest child of a couple accused of murdering their daughter has denied being told "to act as though you don't understand" if police asked about her disappearance, a court has heard.
Iftikhar Ahmed and his wife Farzana Ahmed, of Warrington, both deny murdering their 17-year-old daughter.
Shafilea disappeared in September 2003 and was found on the bank of the River Kent in Cumbria in February 2004.
The youngest Ahmed family member was seven at the time.
Covert recording
The jury at Chester Crown Court was told the sister, who cannot be named for legal reasons, had told police Shafilea had gone to bed before her on the night in question.
Andrew Edis QC, prosecuting, asked the witness if she was told what to say to police by Mr Ahmed, 52, and Mrs Ahmed, 49.
The witness replied: "Not that I know of, no."
Mr Edis asked the witness about conversations she had with her mother, which were picked up by covert police recording devices.
He told the jury you can hear Mrs Ahmed tell her "to act as though you don't understand" if anyone asked about Shafilea's disappearance.
Responding to a statement from Mr Edis that her parents were telling her what to say, she replied: "No".
She denied that either of her parents had been violent towards her and said could not remember any violence directed at Shafilea.
Asked if she remembered anything about her sister at all, she said: "I remember bits."
She said she did not remember Shafilea running away from home.
'Blazing row'
The jury was also told about a "blazing row" the witness had with her parents over a "dispute" about a lip piercing.
Mr Edis said Mr Ahmed shouted: "We are your parents, you will obey us. You are not bringing shame on this family."
He then asked if she had heard her parents say anything like that before.
She said: "Not that I can think of at this time, no."
The prosecution claims Shafilea was killed by her parents because she brought shame on the family by her desire to lead a westernised lifestyle.
Earlier in the trial, the jury was told Mrs Ahmed had changed her account, claiming she saw her husband beat Shafilea on the night of the alleged murder.
She also claimed he had threatened to do the same to her and their other children if she ever asked him what happened to Shafilea.
The youngest member of the family said she "could not accept" her mother's latest story was the truth.
The trial continues.