Michelle Gunshon 'murdered by Digbeth glass collector'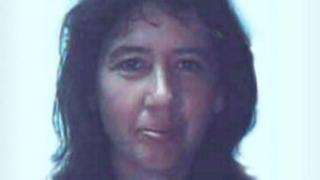 A female security guard was raped and killed by a worker at the Birmingham pub where she was staying, a court has heard.
The family of Michelle Gunshon, whose body has never been found, were left with a "chilling silence" after her disappearance in 2004, jurors heard.
Martin Stafford, 44, originally from Dublin, denies murdering Ms Gunshon.
Prosecutor James Curtis QC told Birmingham Crown Court Mr Stafford fled to Ireland after her murder.
Opening the case against Mr Stafford, Mr Curtis alleged the defendant was twice caught on film by speed cameras at the wheel of Ms Gunshon's Ford Escort.
Ms Gunshon, from Mill Hill, north London, was staying at the Dubliner pub in High Street, Digbeth, when she disappeared in December 2004.
Mr Curtis told jurors: "You are going to have to consider some pretty unpleasant material because it is the case for the Crown that the defendant, Martin Stafford, committed the most terrible crimes against a 38-year-old woman.
"Her name is Michelle Gunshon and it's the case for the Crown that this man abducted her from a public house where she was staying.
"He took her away against her will in her own car, he raped her, he murdered her, and he disposed of her body so that she has never been seen since."
'Fled country'
Jurors heard she had checked into the pub on 3 December while working at the Clothes Show Live event at the National Exhibition Centre.
But two days later she was found to have disappeared from her room and her car was abandoned nearby.
Mr Curtis alleged that her blood was found inside the vehicle, as well as genetic material from the defendant.
The court was told that Mr Stafford had been jailed for rape and false imprisonment offences in the Republic of Ireland.
Mr Curtis said the jury was entitled to know the defendant had previous convictions for overpowering women and forcing them to undergo sexual violations.
He said of the time lapse since Ms Gunshon's disappearance: "The defendant has been in Ireland throughout the intervening time.
"He fled there within days of the murder."
He alleged Mr Stafford was caught "driving her car" by two speed cameras near the city centre on 5 December.
The trial, which is expected to last three weeks, continues.