A14 toll in Cambridgeshire proposed by government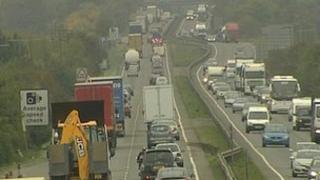 Drivers could have to pay to use a 20-mile (32km) section of the A14 in Cambridgeshire as part of a major highways investment planned by the Department for Transport (DfT).
The A14 corridor scheme includes a bypass around Huntingdon and new roads running parallel to the A14.
The plan aims to ease congestion on the main route from the port of Felixstowe, in Suffolk, to the M6.
Tolling could help to fund improvements to the "crucial" road, the DfT said.
However, it has not yet been decided which section of the A14 could have a toll.
'Congestion-blighted'
Subject to agreement with local authorities on a funding package, and decisions at the next Spending Review, construction work could begin by 2018.
In December the government announced a "participation exercise" seeking long-term solutions to congestion issues on the road.
The A14 Challenge was managed by the DfT and Cambridgeshire County Council with input from councils in Northamptonshire and Suffolk.
The new plans include improvements along the route of the A14 from Milton through to the A1 junctions, two new untolled roads for local use and upgrades to the existing carriageway with the removal of accesses and junctions.
Improvements to junctions at the northern and southern ends would also be carried out.
A spokesman from the DfT said: "Study work has confirmed that funding for these can be generated in part through tolling a length of the enhanced A14, featuring around 20 miles of new or widened road.
"However, more work will be taken to determine the best tolling solution, including what length the tolled section should be, how users would pay and what the tariff should be."
Cambridgeshire County Council leader Nick Clarke described the announcement as "fantastic news for the area".
"It will unlock the improvements so desperately needed for this congestion-blighted road and help deliver major improvements to its poor safety record," he said.
Transport Secretary Justine Greening said: "The A14 is a crucial strategic route for the east of England, vital not only for international road traffic using the port of Felixstowe but everyone who relies on it daily."