Gatwick Airport plans to handle 40m passengers by 2021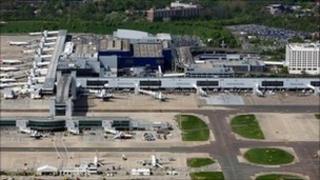 Gatwick Airport has unveiled its vision for growth up until 2020, including plans to handle up to 40 million passengers a year.
Bosses plan to invest another £1bn in the airport to increase passengers by 2021-22 and create an extra 1,200 jobs.
They said there were no current plans for a second runway and they were focused on making the best use of their single runway and two terminals.
But proposals for a new runway have been included as a long-term option.
The masterplan states: "We believe that there is a possibility that a second runway may be needed sometime in the future."
'Recognise concerns'
A legal agreement currently prevents a second runway being built at the West Sussex airport until 2019.
Peter Barclay, from the Gatwick Area Conservation Campaign, said despite the mention of a second runway, the masterplan showed the airport's bosses were not keen on building one.
In the masterplan the airport said it had delivered large parts of a £1.2bn investment programme since US-based investment fund Global Infrastructure Partners took ownership in 2009.
Bosses said Gatwick could grow to handle 40 million passengers a year by 2021-22, increasing to 45 million annually by 2030 at which point the airport would be full.
In a statement, Gatwick Airport said: "The main issues raised through the consultation were related to the impact of growth on the road and rail networks, and on airport noise for those living near Gatwick or under our flight path.
"We've recognised these concerns and our masterplan makes commitments to help fund improvements for rail, coach and local bus services and also accepts that making further improvements to our surface transport is essential to achieving sustainable growth.
"We also acknowledge that communities can be affected by aircraft noise and our masterplan details the range of noise management and mitigation measures in place."
Mr Barclay said the Gatwick site was extremely compact, preventing a second runway being a viable option.
He added that there was also a high level of organised local opposition.
"The economic investment required and the return they would get, don't balance," he said.
"The site has hills at one end and a railway at the other."
About 34 million passengers currently fly in and out of the airport annually.
The masterplan replaces one put forward by the airport's previous owners in 2006.