Four re-bailed in inquiry into Northampton family's murder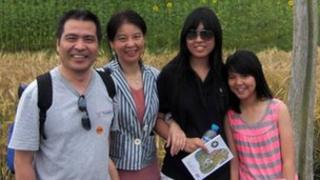 Four people arrested after the murder of a family of four in Northampton have been re-bailed.
Police investigating the murder of the Ding family at their home last year questioned three women and a man and they answered bail this week.
A 54-year-old woman was arrested in Coventry, a woman aged 39 in Gloucester, a 22-year-old woman in Southend and a man aged 25 in London.
They were all held on suspicion of conspiracy to assist an offender.
University lecturer Jifeng Ding, his wife Helen Chui and their two daughters, Alice, 12, and Xing, 18, were found stabbed to death at their home in Wootton last year.
Bitter court battle
All four members of the Ding family were found stabbed to death at their home in Wootton on 1 May last year.
Police believe they were killed on 29 April, the day of the royal wedding of the Duke and Duchess of Cambridge.
Anxiang Du, from Coventry, who worked at a herbal medicine shop in Birmingham, went missing a day after losing what has been described as a bitter court battle over his shared business interests with the Ding family.
Mr Du, 53, was arrested by Moroccan authorities earlier this month and the Home Office is now working to extradite him, Northamptonshire Police said.
Mr Ding worked as a lecturer at Manchester Metropolitan University and his wife worked locally at a school in Northampton.