Kent and Shepway councils in Romney Marsh nuclear waste row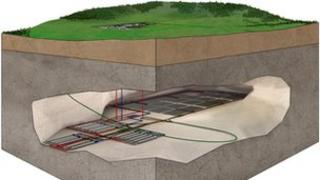 Two council leaders have clashed over a report opposing plans for a nuclear waste facility on the Romney Marsh.
The report, co-authored by Kent County Council leader Paul Carter, has been criticised by Shepway council leader Robert Bliss as emotive and inaccurate.
Mr Carter said he believed the report, which said the facility would blight the area, was factually correct but Mr Bliss said it was a knee-jerk reaction.
Earlier, Kent County Council voted to "totally oppose" the facility.
The area is already the site of Dungeness nuclear power station, where Dungeness A is being decommissioned and Dungeness B is due to stop generating power in 2018 or 2023.
In a letter, Mr Bliss wrote: "You have co-authored a public report that is so full of emotive statements but lacking in fact, I feel I need to correct the inaccuracies."
'Don't jump ahead'
He said the facility could bring "potentially significant benefits", including the creation of 500 jobs.
He also wrote Shepway council's position remained neutral, and the authority was seeking the views of the community.
Mr Bliss told the BBC: "I reacted rather badly really because I feel that we shouldn't jump ahead, as far as I'm concerned, with a knee-jerk reaction, because they are used to nuclear down there."
Mr Carter said: "He thinks I may have got a few facts and figures wrong. I think he's got his facts and figures wrong and I will be responding intelligently as to why I believe that factually our report was correct."
The report said the facility would create few jobs and would be built in an area prone to earthquakes.
Public consultation
On Thursday, Kent County Council voted to oppose the establishment of a nuclear research and development facility in the county.
It also agreed that if Shepway council decided to progress the proposal further, Kent council should review whether or not to hold a county-wide referendum.
Shepway council, which began a consultation in May, has said that with the loss of Dungeness power station, the Marsh community would lose up to 1,000 jobs and an estimated £46m a year from the local economy.
It said the government was implementing its policy of geological disposal of nuclear waste and was inviting communities to find out more and express an interest, which West Cumbria had already done.
The facility would place nuclear waste in secure containers underground in vaults and tunnels, and at ground level, buildings would house research, office, transport and other facilities.
The Shepway consultation is asking people whether it should find out more information about a possible facility on the Marsh.