Thomas Kirwan: Four bailed over Wolverhampton nightclub stabbing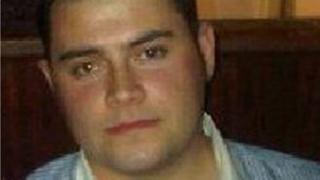 Four men arrested over the death of a man stabbed outside a Wolverhampton nightclub have been released on bail.
Thomas Kirwan, aged 23, a Shropshire factory worker, died outside the Uberra Club earlier this month.
There was an altercation and several people were asked to leave but Mr Kirwan was stabbed, West Midlands Police said.
Officers arrested three 18-year-olds and one 19-year-old in the Wolverhampton area on Wednesday.
Mr Kirwan's mother Emer has described her son, who worked at Bridgnorth Aluminium, as her "rock".
He had planned to marry his 21-year-old girlfriend of six years, Jade Elwell.