Leicester NHS move plan impact 'overlooked'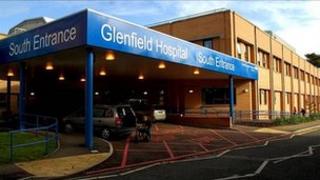 The impact on patients of plans to move two NHS departments from Leicester to Birmingham has been "overlooked", a councillor has warned.
Paediatric ECMO treatment, used to oxygenate the blood of patients, is leaving Glenfield Hospital in a national reorganisation of services.
The hospital's children's heart surgery unit is also set to move.
The deputy leader of Leicestershire County Council said the secretary of state could be asked to intervene.
'Centre of excellence'
However the Department of Health said Andrew Lansley had already approved the changes.
A spokesman added: "The decision to relocate the service has been taken with the commitment that expertise will be retained from the team at Glenfield Hospital.
"This decision will mean Birmingham Children's Hospital is not only able to provide, but to expand the service so even more intensive care beds are available for babies and children who need them."
International ECMO expert Kenneth Palmer had warned that about 50 babies and children would die over five years if the specialist life support treatment moved.
County councillor David Sprason said: "We know that Glenfield's unit is a centre of excellence and we are very concerned about the public impact of any relocation to Birmingham.
"The knock-on impact the children's ECMO service will have on babies lives in our region has been overlooked if the move goes ahead.
"There has been no or little consideration on how the treatment will operate from Birmingham if the expertise does not follow."
He added that the county council's scrutiny committee could choose to refer the decision to the secretary of state for health for reconsideration.
Ivan Ould, county councillor and cabinet member for children and young people, said: "I'm concerned about any decision that could make life more difficult for Leicestershire's children and families."
Independent review
East Midlands Councils, the body representing the region's local government, said it was also pressing for an urgent rethink.
It has warned of longer journey times for sick children and their families if the unit moves and has urged other regional organisations to push for an independent review into the decision.
Jim Birrell, interim chief executive at University Hospitals of Leicester NHS Trust, said: "We would be looking hard at the review panel's findings and the reasons for their decision and we remain committed to do that.
"We have instructed clinical and legal advisors to give us their opinion and... we particularly want to make sure the advice given to the decision makers regarding the ECMO service has been fully taken into account.
"In the meantime, the team continue to operate under the principle of 'business as usual'."