South West Trains staff in Olympics industrial action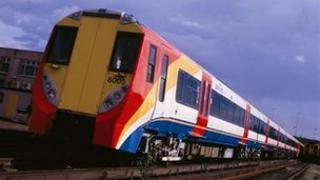 Staff at South West Trains (SWT) are to work to rule, including a ban on overtime, during the Olympics in a row over a Games bonus payment.
Union members rejected going on strike last week but have voted for other forms of action starting from Friday - the day of the opening ceremony.
SWT says services will continue as normal, adding it has already agreed a 4.75% pay increase covering the period.
The RMT union said action would end after the Olympics on 12 August.
Up to 1,000 members of the union are expected to take part in the action.
It comes after SWT, which runs services across the South into London Waterloo, advised people travelling to the 2012 sailing events in Weymouth and Portland to travel by car due to predicted train disruption.
'Very disappointing'
Rail Maritime and Transport Union (RMT) general secretary Bob Crow said: "Although we have secured good deals on Olympics recognition and reward for the vast majority of our members, we still have a small number of employers holding out and refusing to offer either a fair deal or any kind of deal at all.
"We cannot accept that blatant unfairness, and the time has come for these employers to seize the opportunity, get round the table and sign off agreements that recognise the additional work and pressures that these staff will be carrying."
South West Trains reassured customers it would continue to run a full service during the Olympics, despite the union's overtime ban.
Managing director Tim Shoveller said: "As we have said all along, the RMT agreed to a generous pay deal some months ago, which covered the period of the London 2012 Games.
"It's very disappointing that the RMT has been trying to go back on this deal and cause disruption at such an important time for our customers and our country."
Union members working on the London bike hire scheme will strike for 48 hours from Friday morning in a similar row.
Hundreds of RMT members employed by Transport for London will also go on strike over the first weekend of the Games after failing to secure a deal over a bonus.