'Tragedy' to lose Portland helicopter after Brixham crew rescue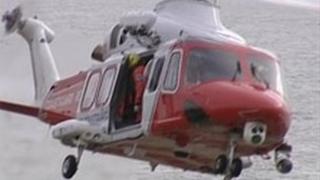 A skipper who rescued three Devon fishermen after their boat sank has said it would be a "tragedy" if Portland's rescue services closed.
Rob King found Betty G's crew off Lyme Bay on a life-raft 12 hours after she sank. He alerted Portland Coastguard which dispatched a helicopter.
Portland's Coastguard search and rescue helicopter is set to go as part of government reform plans in 2017.
Mr King said the closure would be a "tragedy" for the coastline.
The skipper of the Blue Turtle said the Brixham men were "cold, a little bit wet and very relieved" to be rescued having abandoned their scallop trawler at 01:40 BST on Monday.
They were rescued unharmed at about 14:00 BST having got down to their last flare.
'Excellent job'
Mr King said: "They [Portland Coastguard] do an excellent job and they can get to anything within Lyme Bay or around Portland very quickly from their current base and it would be an absolute tragedy if Portland helicopter base was allowed to close.
"It's going to take longer for helicopters to be provided and with the very heavy use of Lyme Bay, Weymouth and Portland areas it's vital that we continue to have that cover."
The Weymouth and Portland Coastguard co-ordination centre is scheduled to close and be replaced by a new Maritime Operations Centre (MOC) in Hampshire after the Olympics.
The coastguard helicopter will be replaced by a regional service after 2017.
Mr King said: "The feeling is that this is purely financial cut backs rather than taking the priority of safety for all the users out at sea."
The Department for Transport has previously said a more modern, faster fleet of helicopters operating from fewer bases will provide a more reliable overall service that still meets the key search-and-rescue requirements.
An e-petition called Save the Portland Coastguard Helicopter has so far gained 14,863 signatures. If it reaches 100,000 by August it could force a debate in parliament.