Legionnaires' disease outbreak in Stoke-on-Trent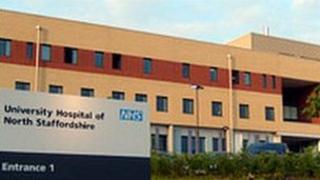 Seven people are being treated for Legionnaires' disease in an outbreak in Stoke-on-Trent.
Those affected are six men and a woman, aged between their late 40s and 75, health officials said.
Two men in their 70s are described as "stable" and the other patients are said to be "improving".
The Health Protection Agency (HPA) said all seven patients were being treated at the University Hospital of North Staffordshire.
'Detailed histories'
Prof Harsh Duggal, director of the Health Protection Unit in Stafford, said: "While we do not currently have a direct link between the cases, the evidence points to the fact that there is a common source.
"We are taking detailed histories of the movements of the patients to see if there are similar patterns which would indicate a local source of infection.
"Legionnaires' disease is a rare but potentially life-threatening illness. It is caused by a bacteria commonly associated with water systems and cannot be passed from person to person."
The HPA added it was also investigating two cases identified in early summer as being possibly linked to the current cluster.
The agency is working with the Health and Safety Executive, the NHS in Stoke and the city council to try to identify and control any possible sources of the disease.
The seven cases are not hospital acquired, health officials said.
Flu-like symptoms
Healthcare staff in the areas where the patients live have been alerted to look out for symptoms.
Officials said early signs include flu-like symptoms, with muscle aches, tiredness, headaches, dry cough and fever which can lead to pneumonia.
Diarrhoea and confusion may occur, as well as chest and breathing symptoms. The disease can be effectively treated with antibiotics.
There were 239 cases of the disease in England and Wales in 2011, including 23 in the West Midlands.