Dame Margot Fonteyn's ballet shoes expected to fetch £12,000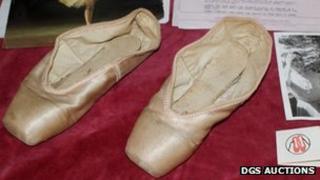 Ballet shoes that belonged to British ballerina Dame Margot Fonteyn are to go under the hammer in Kent.
The shoes, which date from the early 1970s, have been put up for auction by Cheryl White whose mother, Joy Crossen, ran a ballet shop in South Africa.
Mrs Crossen was passed the items, which have suggested amendments written by Dame Margot on one sole, by London-based shoe manufacturer Michael Gamba.
They are expected to fetch up to £12,000 at auction in Hythe, in August.
Ms White, of Hythe, said: "She's marked the back of them to show how she wants it adjusted. She's put 'Single dolly' with a cross to show where she wanted that putting.
"I think, probably, these are the only pair where she's actually written about what she wanted and how she wanted to be standing in her shoes."
Famous partnership
Ms White plans to help fund bursaries for young dancers with the proceeds of the auction, which also includes a letter from Dame Margot and an autograph book containing her signature.
In 2000 items belonging to the dancer, including a Christian Dior wedding outfit and white swan tutu, were auctioned for £640,000 - six times more than expected.
Reigate-born Dame Margot is considered one of the most gifted ballerinas of the 20th Century both in classic roles and in roles created for her.
She became prima ballerina of the Royal Ballet in 1940 and found international fame after a notable performance of The Sleeping Beauty in 1946.
Her famous partnership with Rudolf Nureyev, who was 20 years younger than her, began in 1962 and revived her career at a time when she was considering retirement.
She died of cancer in 1991 in Panama, where she had retired to live with her husband Roberto de Arias in the 1970s.