Olympic medals from 1908 London Games auctioned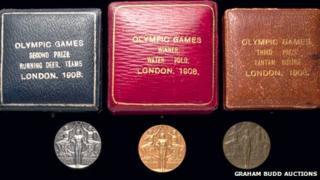 A trio of Olympic medals awarded to British competitors in the 1908 London Games have sold for £17,000 at an auction.
The sale of Olympic memorabilia was organised by Graham Budd Auctions at Sotheby's on Tuesday.
The top lot was a set of three medals - gold for water polo, silver for a shooting event and bronze for boxing.
Auctioneer Graham Budd said the sale attracted international collectors who were in London to watch the Olympics.
Running deer
Mr Budd said: "We had lots of international interest. There were people in the room from America, Australia, Japan and China.
"There was strong interest on high-quality items such as medals.
"When you think of the Games, the gold medal is really what it's all about and that filters through to collectors."
Mr Budd said the top lot featured a gold medal for water polo, awarded to the British competitor Charles Smith, a silver medal in a since defunct shooting competition called running deer, which involved shooting at moving targets, and a bronze medal awarded to British bantam weight boxer Wally Webb.
The silver medal was awarded to a British team so it was not engraved with an individual's name.
Some items did not meet their reserve, including a tracksuit top worn by Sebastian Coe at the 1984 Los Angeles Olympic Games and a shoe worn by Jonathan Edwards, which he threw into the crowd at the 2000 Sydney Olympic Games after winning the gold medal for the triple jump.
Mr Budd said older items were more popular but more recent pieces of memorabilia would probably be popular in the future.
Another item which did well was a second prize medal from the 1896 Athens Games.
The medal is bronze because at the inaugural modern Games, there were no gold medals with the winner given a silver medal and the runner-up a bronze.
The medal went for £15,000.
Mr Budd said: "People like historic items rather than modern history but there will be more interest in things like clothes from the 1980s in another 50 years."