Jon Stewart East Midlands Trains sketch was 'a bit of fun'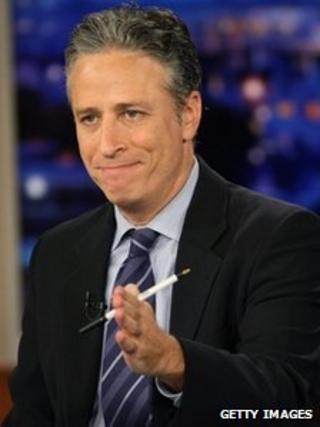 A train drivers' union has said a US comedy programme's lampooning of its planned strike during the Olympics was "a bit of fun".
Drivers from East Midlands Trains were due to take industrial action for three days in August in protest at proposed changes to pension contributions.
Jon Stewart poked fun at the move as part of an Olympics-themed segment on the satirical Daily Show.
Train drivers' union Aslef said it took the joke in the spirit it was intended.
The three-day strike was due to be held from 6-8 August but has now been called off.
'Union man'
During the segment - broadcast in the UK on Wednesday night - Stewart listed a string of pre-Olympics problems, including security issues.
He went on to say: "Public transportation is where London really shines, especially the East Midlands' trains. Ask any Londoner, he'll tell you - nothing beats the old East Midlands train line."
Holding what was supposed to be a pint of beer, he then drank a toast with a colleague, and said: "To the East Midlands line - the greatest line in her majesty's realm."
The pair were interrupted by a news clip detailing the strike, after which Stewart spat out a mouthful of his drink in mock shock.
He concluded: "What?! How did you run an empire for 300 years?"
An Aslef spokesman said: "Aslef takes Jon Stewart's lampooning of the Brits in the spirit in which it was clearly intended - as a bit of pre-Olympic fun.
"Jon Stewart is himself a union man and played a key role in the last strike by the Writers' Guild in the US.
"He was also instrumental in unionising writers at Comedy Central."
Emma Knight, an East Midlands Trains spokeswoman, said: "The strike action has been caused by Aslef and it's up to Aslef to defend what they're doing."