East Midlands Trains drivers call off Olympic train strike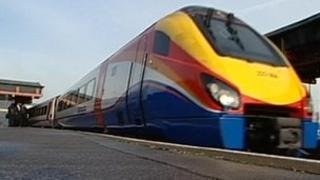 A planned strike by East Midlands Trains drivers over three days during the Olympic Games has been called off.
Aslef had scheduled industrial action for 6-8 August in a row over pension contribution cuts.
The rail operator has been in talks with Aslef since Friday to try and call off the strikes.
The union and rail company said agreement had been reached on issues relating to planned changes to the pension scheme.
A joint statement by Aslef and East Midlands Trains said: "Following further constructive discussions today, we are pleased to confirm that we have reached a positive settlement of all issues relating to planned pensions changes.
"This means that previously announced strike action on 6, 7 and 8 August has been called off and there will be no disruption to important rail services during the London 2012 Games."
East Midlands Trains said it would be running a full service during the Olympic Games.
Last month, two strike dates were suspended to allow discussions to continue.
Aslef members had opposed the rail firm's plans to reduce both its own and staff contributions to its pension fund from July.
The train operator had said in June that the change would leave drivers £500 a year better off without affecting pension benefits.