Olympic flags to be raised by Navy officer Jamie Weller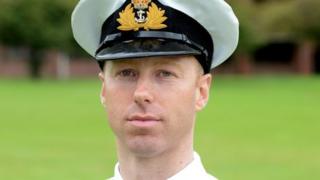 A naval officer and former gymnast from Kent has been chosen to carry a flag at the Olympic opening ceremony.
Lt Jamie Weller, who was born in Helston in Cornwall and now lives in Gravesend, is one of four from the Royal Navy to be selected for the role.
The 32-year-old will also act as the lead flag raiser for the medal ceremonies for gymnastics, trampoline and basketball at the Games.
Weapons engineering officer Lt Weller is based at Abbeywood near Bristol.
He said: "I feel really proud to be representing the Royal Navy at such a prestigious national event as the opening ceremony of the Olympics."
As a former gymnast, Lt Weller now sits on the executive committee of the British Schools Gymnastics Association.
Lt Weller, who lives with his wife Laura and son Alastair, said: "I can't wait for my son to look back as he gets older and think 'my dad did that'."