Megabus coach driver jailed for M5 crash death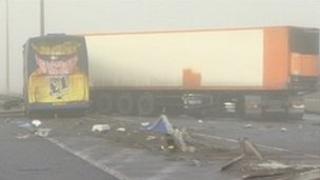 A coach driver from Abergavenny has been jailed for two years for causing the death of a man on the M5 in Gloucestershire by dangerous driving.
Daniel Parr, 24, of Penallt Estate, Llanelly Hill, pleaded guilty at a previous hearing to causing the death of Raymond Vaughan on 12 December 2010.
The crash near Tewkesbury involved a Cardiff-to-Leeds Megabus coach, an articulated lorry and two cars.
Mr Vaughan, 30, an engineer from Birmingham, was one of the car drivers.
Parr had previously denied causing his death, but changed his plea to guilty.
As well as the jail term, Judge Susan Evans QC disqualified him from driving for three years and he must take an extended retest before he can drive again.
Evasive action
Gloucester Crown Court heard that motorists were so concerned about fog and icy conditions on the morning of 12 December that they had slowed down to 40mph.
Yet Parr, who admitted he could see just the length of a cricket pitch - 66ft (20.1m) - ahead of him, was driving at 62mph - the maximum speed under law for his coach.
He did not see the articulated delivery lorry travelling in front of him on the northbound carriageway.
The court heard that he tried to take evasive action but clipped the rear of the truck causing it to smash through the central reservation on to the southbound carriageway.
Mr Vaughan's black Ford Fiesta, which was coming the other way, then collided with the lorry and a Rover ploughed into his car.
The married father-of-two died at the scene of the crash near junction eight of the M5, between Strensham and Tewkesbury.
'My rock'
His widow Hayley said in a statement that their children, one of whom is disabled, now found it difficult to sleep and cried at night.
"I desperately miss my husband," she said. "He was my rock and I thought he would be with me for the rest of my life."
Mr Vaughan's mother Julie said in a statement that she and her two daughters, Patricia and Chloe, were already coping with the death of their father and her husband when he died.
"Chloe told me that everyone she loves dies," Mrs Vaughan said.
"Since my son's death I have not slept a full night. I cry every single day for my son. The thought of him not being around to speak to or hold him is tearing me apart."
The judge told Parr: "I know what happened that day will have a profound effect upon you for the rest of your life and that you wish you could turn back the clock.
"This court has to send out a message to those that drive dangerously in icy conditions and that is what you did.
"Nothing this court can do can repair the damage done to Raymond Vaughan and his family."